As Spring rolls around, we start thinking about wedding season. We're sure many of you who are getting married this summer may have reservations for wedding reception places. With the pandemic still putting the stop on the number of people you can have at wedding receptions, many are looking to have weddings at home or property they own.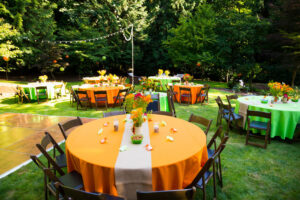 Outdoor wedding receptions can be some of the most memorable times for weddings, but there is quite a bit of work involved in the preparation. There are a couple things that will be very important when it comes to your wedding reception. One of the things you have to determine is the bathroom situation. You don't have to worry when Freedom Septic Service has your back with our portable restroom services for wedding receptions.
Freedom Septic Service Portable Restrooms
You can go with the traditional "port-a-potty" or "port a john" as people refer to them as. However, these, are notorious for being "the worst thing ever". They are non-flushing, the smells linger and your guests will definitely be holding it until they get home or to the nearest flushing toilet.
The next option is a Restroom Trailer. These usually have running water and flushing toilets. Your guests may be surprised with them when they try them out. These are most popular with brides for obvious reasons included but not limited to sanitary conditions, running water, and no smells.
Last option is to build a bathroom on location. Yes, I know this is a crazy option but this is the only other thing to do. So technically, if you wanted to spend 3x your budget on just building a bathroom you can. If not then please do your guests a favor and offer them an option they won't regret.
If you're planning a wedding reception outdoors this summer, don't hesitate to reach out to Freedom Septic Service. we can provide you with several options for portable restrooms to make your event more convenient for your guests. Contact Freedom Septic Service at 855-767-3363 today or visit us online for more information!