Resolve your household and commercial waste issues with expert septic system cleaning, grease trap pumping, or septic tank installation from Freedom Septic Service, Inc. located in Sykesville, Maryland. Our team provides a host of experienced services for locations ranging from private homes and schools to restaurants and public facilities. We are licensed and certified to install all septic tanks per the latest Maryland state guidelines. With the help of our capable hands, you can have a quality septic system installed or inspected today!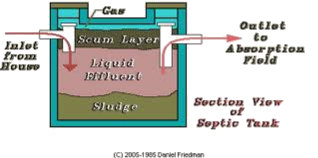 Commercial Services
Restaurant Grease Traps
Septic Tanks
Holding Tanks
Septic Cleaning & Pumping
Septic Tanks
Cesspools
Dry Wells
Holding Tanks
Sand Mounds
Septic Inspections
Certified by the state of Maryland, we provide septic inspections for real estate transactions.
How Your Septic System Works
A septic system consists of a large underground tank, buried in your yard, and a soil absorption area. When wastes pass into the tank, the solids settle to the bottom while the liquid passes through a leaching system.
While bacterial action decomposes most of the solids, some inorganic and hard-to-decompose material remains, gradually filling the tank until the solids pass into and plug the leaching system.
Septic Tank Map, Septic System Cleaning, Grease Trap Pumping, Septic Tank Installation in Sykesville, MD
Helpful Hints:
Pump Your System Every 2 Years
Limit Grease Discharge
Use Only Biodegradable Products
Limit Use of Garbage Disposals
Never Flush Acids, Polishes, Oil, Paint, or Grease
Federally Recommended Maintenance
The Public Health unit of the U.S. Department of Health, Education, & Welfare says, "A septic tank system will serve a home satisfactorily if it is properly designed, installed, and adequately maintained. Even a good system which does not have proper care and attention may become a nuisance and a burdensome expense."
Get a free estimate on septic system installation when you contact us today.
Proudly Serving: Anne Arundel, Baltimore, Carroll, Frederick, Howard, Montgomery Counties & Prince George's County