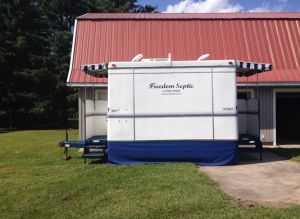 Freedom Septic Service of Sykesville knows that "poop happens," and with that in mind, how many portable toilets do you need for your special event so it's a clean and healthy environment?
Here's what to take into consideration when deciding about portable toilets…
First, what is your estimate of the maximum number of people at the event at its peak time? If you'd say 50, then one toilet should suffice. For 100, get two toilets, and for 1,000, get five. In general, the average person will use the toilet once every four hours. The longer the event, the more toilets needed. Consider hiring an attendant to make sure they stay as clean as possible.
Next, take into account whether or not guests will be drinking a lot. If alcohol is served, toilet use will increase by about 40%! Therefore, add on another one or two toilets per 100 guests.
Also, will there be a lot of women at the event? Men tend to be in and out quickly, while women take their time, and the more women you're hosting, the more portable toilets you should have available at any given time. If, for instance, more than half your attendees are women, add an extra toilet or two to properly accommodate them.
Finally, don't forget that it's important to have a handicap accessible toilet available for those in wheelchairs or using walkers.
Consider the many times you've been somewhere with crowds of people and there were not enough toilets. It's gross. The lines are long. Men decide to urinate in the bushes or in public because they're drunk or don't want to wait around. Women get frustrated because they "need to go" but there aren't enough toilets to accommodate their needs. An event can often be judged based on how the whole toilet situation turned out, you know?
Freedom Septic Services can supply your event with different types of portable toilets, including regular toilet units with sinks, handicap toilet units, and even elite restroom trailers. Call 410-795-2947 to discuss options.