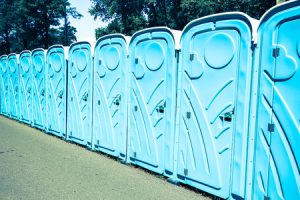 When many people think of portable restrooms, their first thought is, "Yuck!" A bad experience or two, at an overcrowded festival or outdoor event, can lead people to think of portable restrooms as not very enjoyable. We get it—doing your business in a portable john is not the same as doing it in a climate-controlled, perfume-scented luxury restroom. That said, there are some common myths about portable restrooms that you shouldn't believe. For example:
Portable restrooms are unsanitary.
Well, sure, if they aren't properly cleaned! However, with regular cleaning and maintenance, portable restrooms are perfectly sanitary and safe to use. Your units come to you thoroughly washed, and include hand sanitizers. You also have the option of renting hand-washing stations or some actually come with sinks in the units for added cleanliness.
Portable restrooms are only for construction sites/music festivals/informal events.
Yes, portable toilets are a fixture at construction sites, music festivals, Oktoberfests and other such events. However, they also make things easier at weddings, concerts, reunions—you name it! If you've ever had to wait in a long line at a venue's single restroom, you know what we mean.
You only need one.
Didn't we just remind you about your bad experience with long lines? You definitely need several portable restrooms and it all depends on your event. Some elite portable restroom trailers are equipped with multiple stalls with separate entrances.
Portable restrooms smell bad.
Have you ever experienced a portable restroom trailer? With flushing toilets, and a design intended to reduce smell and enhance ventilation, they're a cut above the average portable restroom experience.
Now that you've learned how sanitary and convenient portable restrooms can be, it's time to book some for your next event. Contact Freedom Septic Service for everything from standard portable toilets to luxurious trailers. Book online or request an estimate today!