The summer season is right around the corner, which means there will be plenty of outdoor weddings planned due to the nice weather. Plenty of people have been choosing to have outdoor weddings in the summer because it provides somewhat cheaper prices, especially if you're hosting the reception on your own property.
High-Quality Restroom Trailers
A restroom trailer may be the answer if you haven't given it thought.  While most of us might think of portable toilets as unclean due to the way they are overused and under-maintained at some concerts and festivals, this does not have to be the case for the perfect ceremony that is to be your wedding with upscale models that any guest would not be offended to use.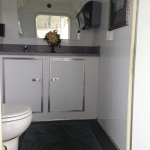 Make Them Nice and Welcoming
This can be a great solution for backyard weddings where you don't want people traveling in and out of the house all day or any other outdoor venue that does not offer restroom facilities.  Create additional atmospheric touches by making cute signs to direct people to the loos or decorate your outdoor water closets with fabrics that match your wedding colors or simple white tulle.
The Benefits of Portable Restrooms for Your Outdoor Wedding Reception
If you're hosting an outdoor wedding reception on your property, there is quite a bit of planning and work to do before the big day. Freedom Septic Service can make the planning easier with our portable restrooms for your outdoor wedding reception.
Here are some incredible benefits:
Prevent guests from walking in and out of your home/building
Provide accessible restrooms for all guests
Don't worry about clean-up
Bathroom attendant included for travel fee
We have several different options for the portable restroom services where you can customize your restroom needs for your guests. Contact Freedom Septic Service at (410) 795-2947 today or visit us online for more information!