Wedding season is quickly approaching! You may already have the dress, picked the perfect outdoor wedding venue, and ordered the cake; but did you think of where your guests will go number one and two?  A restroom trailer may be the answer if you haven't given it thought.  While most of us might think of portable toilets as unclean due to the way they are overused and under-maintained at some concerts and festivals, this does not have to be the case for the perfect ceremony that is to be your wedding with upscale models that any guest would not be offended to use.
This can be a great solution for backyard weddings where you don't want people traveling in and out of the house all day or any other outdoor venue that does not offer restroom facilities.  Create additional atmospheric touches by making cute signs to direct people to the loos or decorate your outdoor water closets with fabrics that match your wedding colors or simple white tulle.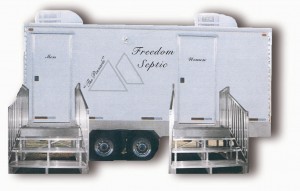 Contact us if you would like more information on what portable restroom facilities are available for your outdoor wedding.  For those in the Carroll County area we are going to be a vendor at the 2013 Bridal Show Spectacular on February 24th from 1:00 – 4:00pm at St. John's Portico located at 43 Monroe Street Westminster, MD 21157.